Local Rules
The boundary of the course
is indicated by the fence and/or white marked posts (R18.2).
Land under construction
is indicated by blue posts, a sign and/or white lines; it is prohibited to play here. Obstruction must be avoided in accordance with R16.1b.
All roads and paths
are integral parts of the course with the exception of the brick path from the parking lot to the clubhouse (R16.1b).
Local Rules
Fixed obstacles
within 2 club lengths of the green. If the fixed obstacle impedes the playing line, and the ball is within two club lengths of that obstacle in the general area, the obstacle may be avoided in accordance with R16.1b.
Violation of local rules
General Penalty (Match play - loss of hole; Stroke play - two strokes).
Note:
Temporary local rules are posted on the notice board or course status (right column).
Shelters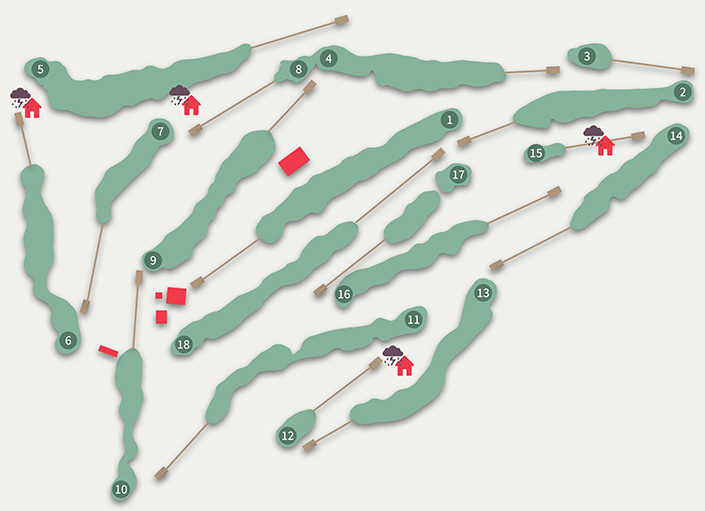 TEE: 6, 8 & 12
FAIRWAY: 15
Waterpoints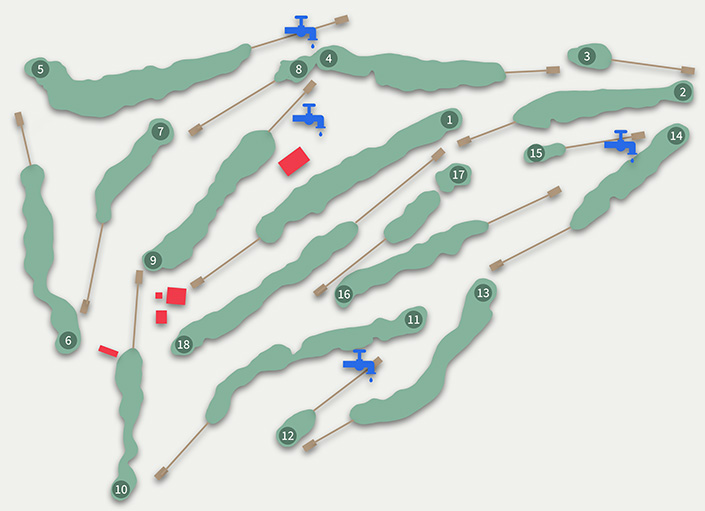 FAIRWAY: between hole 4 & 5
TEE: 9, 12 & 15
Call-up on Hole 6
3x on fairway
1x after leaving the green
or 1x after teeing off 7th backtee
Distance posts
RED/YELLOW
150 m to mid green
WELL COVERS
to mid green
Winter: Trolley & Handicart

To save the course as much as possible, there are a few restrictions on the use of trolleys and golf carts in winter:
When there has been a (night) frost, only golf bags are allowed.
No trolleys in January and February.
If the course conditions allow, golf carts may be admitted, ask the caddymaster, or check the course status.